April/13/2009
Now that I'm back from a great trip to Ireland, I wanted to post two photos I made last month at the New England Institute of Professional Photography, where I was honored to share teaching duties with Beverly and Tim Walden. I had a wonderful group at NEIPP this year, and I'm sorry that I had to take an early flight back home in order to pack for Ireland.

This year the school was held in Hyannis, on Cape Cod. As always, the school was a beehive of activity, and I particularly enjoyed an after-class opportunity to learn about some of the features of my new Canon 5D Mark II . . . my Christmas present that I'm still learning about. So getting to listen to a Canon tech rep was quite helpful.
Another great after-class opportunity was an evening program presented by Andover, Massachusetts Master Photographer Ed Pedi, assisted by his wife and business partner, Linda, shown below. I met Ed for the first time at a day-long class I presented to the
Professional Photographers of Cape Cod
on the eve of the NEIPP school. The PPOCC photographers are a very lively, friendly, and hospitable group, and they recommended Ed's class to me. No wonder: Ed received a standing ovation from a full house for his outstanding program! With great good humor, Ed presented one of the best nuts-and-bolts business programs on how to build a first-class family portrait business that I've seen in years. If your association is looking for a great speaker, I strongly recommend Ed Pedi. Visit his website by
clicking here
.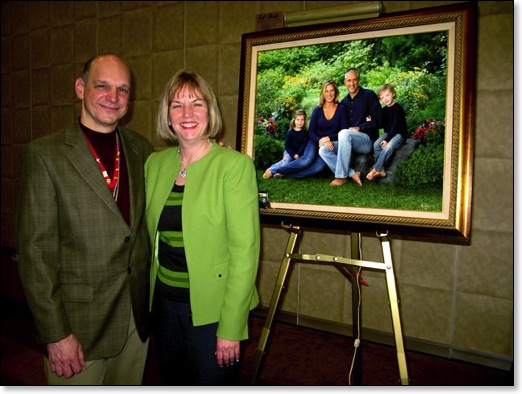 August/26/2008
If you are in or around Pittsburgh on September 15, you might be interested in a new day-long seminar that I'm presenting at the Pittsburgh Airport Marriott Hotel. Sponsored by Buckeye Color Lab and ShootSmarter.com, the program is entitled "Shoot Smart, Price Smart, Sell Smart." I'm really excited about this new program because it covers what I view as the "missing link" between shooting, pricing, and selling. I would say at the vast majority of digital photographers today don't recognize that you need to get all three of these elements aligned if you are have any hope of making a good living and having a private life outside the studio.

This is the last day-long seminar I'm presenting this year, and I promise that you'll get a good, solid day of education for only $79. To learn more or to register,
click here
.

I hope to see you in Pittsburgh!