March/19/2008

It was a gloomy rainy day outside yesterday, and inside it was just a typical day at the office: stuff to do and deadlines to meet. Then the mail man delivered a bright ray of sunshine in the form of my monthly Cafe Joy package from marketing guru Sarah Petty. Cafe Joy is a monthly subscription service that, as Sarah says, allows you to improve your marketing skills "one bite at a time." Each month something really neat arrives in the mail: from great promotional ideas Sarah has tested, or copies of her award-winning marketing pieces, to tips and resources and other welcome doses of monthly inspiration.

Among the items in this month's mailing was a step-by-step "recipe" for a clever Mother's Day promotion. It provides everything you need to get the promotion off the ground . . . including a CD with promotional graphics. And I loved the "Painting Party" challenge contest for creating an original painted background. Really fun stuff!

Membership in Cafe Joy also includes members' only webinars and access to resources in Cafe Joy's "Pantry."

If you want to learn from one of the best marketing minds in the industry . . . a lady who really walks the walk in her own studio, I'm confident that you will benefit from membership in Cafe Joy. And you'll love the darling recipe box that comes with your membership: A great place to store Sarah's tasty morsels of marketing genius!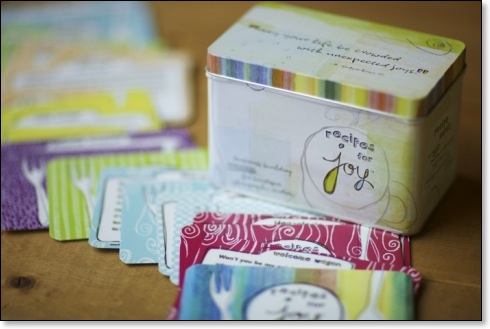 To learn more about Cafe Joy, visit Sarah's
Joy of Marketing website
and click on Cafe Joy. You also can download a PDF the spells out all the member benefits by
clicking here
.