February/16/2008
Ronnie Owings is the owner of one of the most charming studios I've ever visited, Pro Studio at the Garden Cottage in McDonough, GA. During his year in commercial photography, Ronnie photographed many bed-and-breafast establishments for magazines such as
Better Homes and Gardens.
So when he remodeled the vintage cottage to house his portraiture business, he deliberately chose to furnish it in bed-and-breakfast style. You feel instantly at home when you step through the door; many clients say it's like a visit to grandma's house.

The cottage is just a starting point. Ronnie went on to build a thoroughly modern camera room designed to look like a carriage house, just behind the cottage, and he has designed a host of outdoor environments on his acreage that are perfect for photography. Over the years, Ronnie has hosted all manner of barnyard critters that are a real treat for kids and a hit in portraits. The latest, he says, is a hen that doesn't mind being held. He said it is especially popular with seniors. I questioned whether senior boys would actually want to be photographed holding a chicken. "Lots of them," he replied, and he followed up by sending me the photo of the young man below.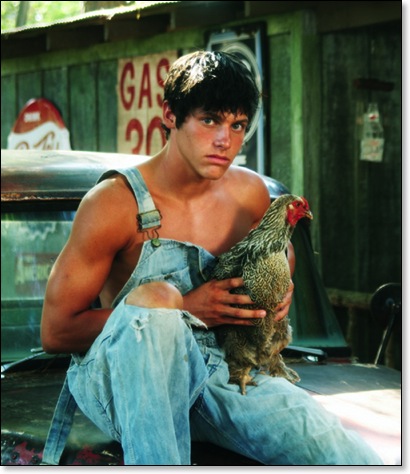 Ronnie's particularly fond of he he, he says, because he gets to enjoy a fresh-egg omelet for lunch every day! Imagine that: the prop that keeps on giving!

Here's a photo of the shed set where Ronnie made the portrait
.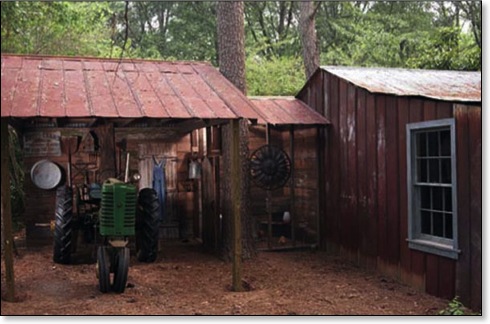 If you want a real treat, take a moment and look at Ronnie's wonderful photography at his very impressive website: http://
www.prostudionet.com
, and be sure to visit the
Garden Cottage
section that includes photos of the charming studio environment that greets Ronnie's lucky clients.
September/18/2007
My family spent last Labor Day weekend at our Deep Creek Lake, MD, home. As usual, we brought the dogs; but our sole remaining cat, Skinny, stayed at home. At 21, she's getting a bit old to travel. She lost her teeth several years ago due to the malnutrition she suffered as a kitten. My son Wes -- the Patron Saint of Homeless Cats -- found the poor emaciated kitten when she was about to take her last breath. He insisted that we summon the vet on his day off, and Skinny's life was saved. She really was skinny until she lost her teeth, and we had to feed her moist cat food twice a day. Then she actually became a bit pudgy.

Anyway . . . she's accustomed to amusing herself when we're gone. Our neighbor drops by every day to feed her, and she is able to come and go through the dog door. She was just outside the door when we left for Deep Creek. But for the first time, when we returned from our lakeside holiday, Skinny was not there to meet us. I figured that she had known it was her time, and she had wandered off to die, as cats are inclined to do. Jim, however, said she might show up, and he insisted on keeping all of the cat supplies in place.

Nearly two weeks later, I set off for Deep Creek to prepare for class. No sign of Skinny. But when I called Jim to tell him I had arrived in Maryland, he couldn't wait to say, "Guess who showed up?" You guessed it: Skinny was back . . . about a pound lighter, but otherwise in good shape. The whole rest of the day, the old Kingston Trio folk song "The Cat Came Back" kept running through my head.

According to Guinness, the world's oldest cat is 34. So who knows how long she'll be around! Here's Skinny, taking it easy.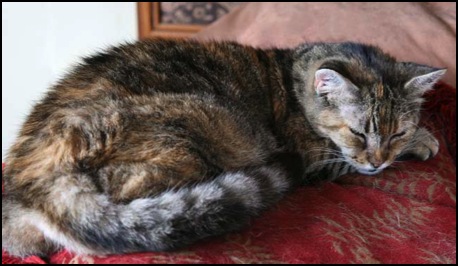 September/03/2007
You can tell that the Labor Day Weekend holiday is almost over. The visitors have gone, and our dogs, Clementine the Labradoodle and Mitizi the Welch Corgi, are catching a late summer's nap.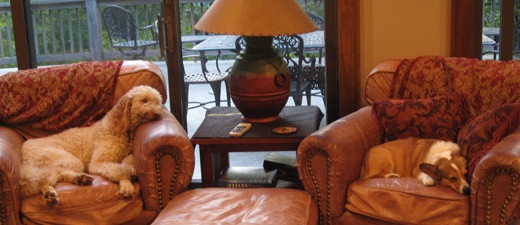 It was a wonderful weekend at our western Maryland lake house . . . FABULOUS weather and great family fun. But two weeks from now, the house will be full of Guerrilla Management Workshop students, and there will be no time for napping!