I'm an ardent advocate of residential studios because of their inherent profit potential. And if you live in a part of the world where it is practical to build a home with a daylight basement, I believe that such an arrangement represents an optimal home-based business structure. So I was most interested when I heard from Georgia photographer Molly Purvines that she and her husband had purchased a lake-side home with a daylight basement in the Atlanta suburb of McDonough. I had written about Molly's tiny home studio in an earlier blog post; you can read it by
clicking here
.

After seeing photos of the new property shortly after it was purchased in January, I asked Molly to send snapshots when the business renovations were completed. I've never had an example that illustrates the features of a daylight basement, and I wanted to be able to show them to students who might be looking for home studio options. Molly not only sent me the picture, she also invited me for dinner and a visit when I was in Atlanta last month. As I expected, the new studio is wonderful; it provides a clean separation between the home and the business, and it makes possible a dedicated entrance for studio clients. Here's the exterior of the house before the family moved in.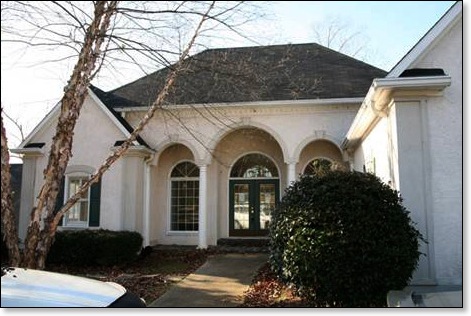 The next two illustrations are the snapshots Molly originally sent to map out her plans for the studio. The first is taken from a secondary driveway and parking area for the lower level, looking toward the door that is ideally located for a dedicated studio entrance.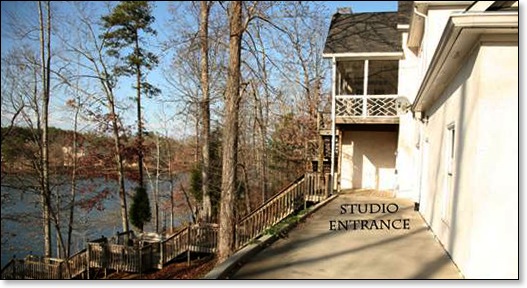 This is Molly's sketch that shows where new entrance lobby walls would be built as well as the location of various studio rooms. The area to the left provides Molly with a spacious camera room that includes several windows for natural-light portraits.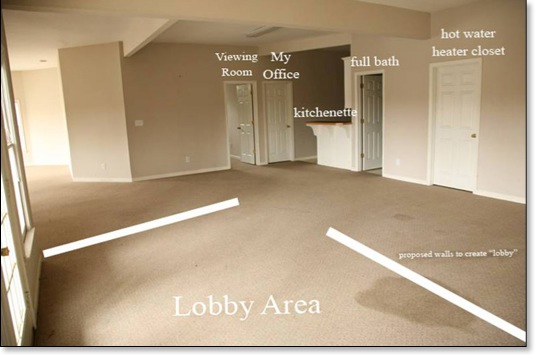 And here is the completed lobby area . . .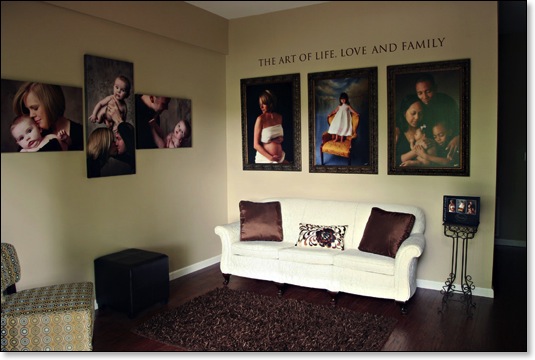 . . . the studio's projection sales room . . .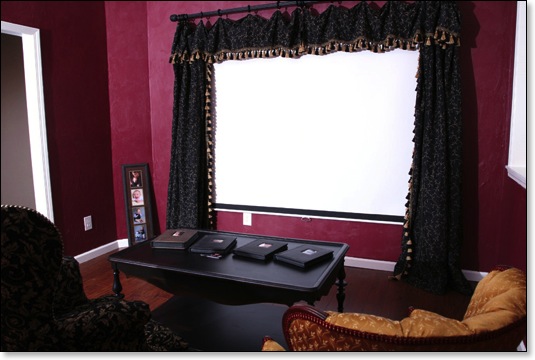 . . . and the bathroom/dressing room where Molly came up with a very clever way to deal with a bath tub: she covered it over and draped the area behind it to create a baby-changing station. Great idea!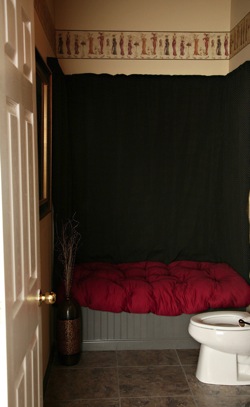 Finally, here's the spacious camera room, complete with a north-light window and room for backgrounds and studio lights at the end to the left of the fireplace.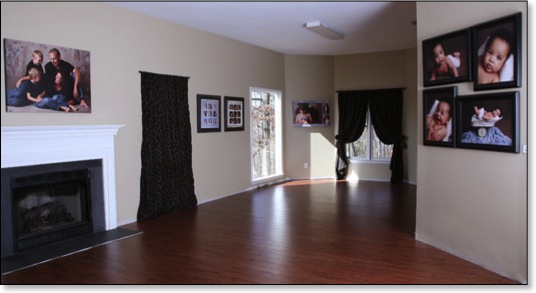 Both Molly and her clients are thrilled with the new space: "The best part is that I don't have to break down the shooting area every time I finish a session," she says. Molly's not the only one who loves it. Charlie, the family dog, who is a cross between a border collie and a saluki, is crazy about the new floor, which was clearly evident when he showed off his keen ball-catching ability during my visit. So to Charlie and the entire Purvines family: Enjoy!