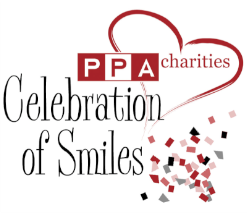 I'm presently involved in planning a very exciting nationwide promotion, sponsored by PPA Charities, which will take place on April 21, 2012. The promotion itself will be officially unveiled at Imaging USA at a Sunday, January 15 platform program featuring Sarah Petty, Mary Fisk Taylor and Beverly Walden, with a special appearance by Dr. William Magee, co-founder of Operation Smile. Dr. Magee also will be on hand for the January 14 PPA Charities Gala on Friday night, January 14 at 9:00 P.M. Last year there was a huge crowd there because of the great auction bargains, and there will be plenty this year as well. But this event is not to be missed, as rarely do you get to meet and greet a humanitarian of Dr. Magee's stature. He is a true hero to me and to all the hundreds of thousands of lives Operation Smile has touched; so please don't miss this exceptional opportunity.
Now, back to Celebration of Smiles: You'll be hearing lots about the promotion in plenty of time to take part in it, but what I want you to know is where and how PPA Charities got the inspiration to host this event.
I have been honored to get to know many wonderful photographers through the Irish Professional Photographer's Association (IPPA), and I was astonished to learn that their association
The biggest challenge facing senior photographers determined to get their share of the Class of 2013 seniors is creating a marketing message that positively will be noticed. That's why you should know about a fantastic senior marketing campaign I helped with at Marathon; it's a fantastic campaign, and I know that it will get the attention of seniors who appreciate great photography. This vibrant three-part marketing campaign is designed to capture the attention of seniors — and keep it — by featuring interactive materials that they can't put down!

Please be aware that very special senior campaign is
ZIP Code protected, which means that it is available to only one
studio within a given marketing area. Even though you
won't be mailing them until 2012, you need to protect
your market area ZIP codes now!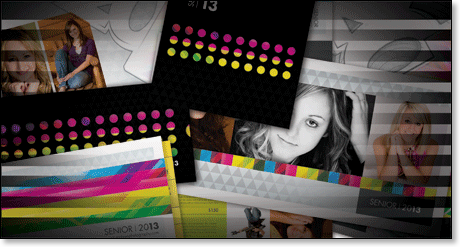 Shown below are the mailings and what they
are designed to accomplish: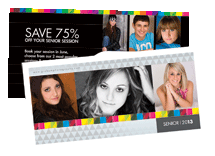 First Mailing: Create Awareness.

Most seniors don't commit to a studio after receiving their first mailing, so this one is designed to accomplish the first step in the promotional process . . . to create AWARENESS that it's time to think about senior portraits. It attracts attention because it focuses on a status that seniors recognize — membership in the Class of 2013 — an element they will see again when they receive the heavy guns of this three- part marketing campaign.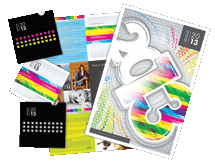 Second Mailing: Shape Comprehension.

A vital link between marketing and sales is COMPREHENSION; if seniors fail to comprehend that your photography style is worthy of their consideration, they won't give your studio a second look. It takes more than social media to draw ideal clients to your website to view your images in depth. So the marketing style presented by this intriguing fold-out poster — contained in a neat holder featuring die-cut dots that reveal its vibrant design — assures that your message will be read!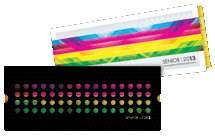 Third Mailing: Build Conviction.

CONVICTION is what sells! Conviction is the final step in the promotional process, and this mailing is designed to convince seniors that your studio stands out from the rest. The design itself, following on the heels of the memorable second mailing fold-out poster, serves as a powerful reminder that your studio has the creativity they expect for their senior portrait experience.


The cost per senior for this compelling campaign is $4.95 for all 3 pieces . . . an incredible price because it includes, inserting your portraits, back copy personalization, postage, list source, ZIP Code protection and Marathon handling production and mailing of your pieces.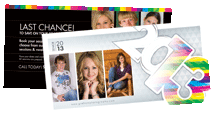 Also available is an optional extra mailing: For only $.60 per name, you can add another mailing to your campaign! So consider adding a "last chance" customized post card that features the same compelling graphics of the three mailers, which will help to clarify that seniors must call NOW, or they'll miss out.

Remember that this comprehensive promotion is limited to only one studio per marketing area, so call 800/228.0629 NOW to make sure your preferred ZIP Codes are available! ZIP Codes are protected on a first-come, first-served basis.