February/09/2011
In case you didn't attend the PPA Charities Celebration at ImagingUSA in San Antonio, I thought you might enjoy seeing this video I compiled from images made by Peter Horn and Jimmy Hayes. The high point of the evening was turning over a check for $100,000 to Operation Smile for the second year in a row. Thanks so very much to all those PPA members who made this donation possible!

You can read more about the event by logging on to the PPA Charities Blog by
clicking here.
January/15/2010
The January 2010 PPA Charities Celebration at PPA's ImagingUSA in Nashville was an incredible success. An unprecedented crowd of over 500 members packed the even, which kicked off the convention and celebrated PPA Charities' accomplishments for 2009.



The evening's high point was the presentation of a check for $100,000, which represents funds raised by photographers for PPACH's charitable partner,
Operation Smile
, in 2009. In the photo below, members of the PPA Charities Board and other well-wishers surround PPACH president Mary Fisk-Taylor (center right) as she presents the check to Beth Marshall, director of Operation Smile's Southeast Region and senior executive advisor for Latin America. Beth is the sister of Kathy Magee, cofounder of Operation Smile.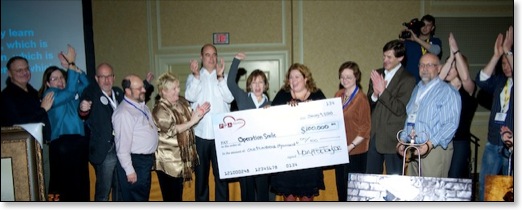 The $100,000 donation represents a major milestone for PPA Charities, as it nearly doubled the $50,635 contribution presented at IUSA in 2009. What's more, over 200 attendees registered for the auction that brought in nearly $20,000. "The Ronald" benefit raised an additional $4,000 during the evening, and activities at the IUSA trade show booth (Operation Smile Studio signups and merchandise sales) brought in nearly $5000 . . . altogether a great start to our 2010 fundraising!

Because of the size of the crowd in Nashville, PPA has reserved a much larger room for the 2011 Celebration event at at IUSA in San Antonio. We're going to need it, as Texas School has contacted us to help sponsor the Celebration as the unofficial welcome party to IUSA 2011. Wow!

To relive the sights and fun of the 2010 PPACH Celebration
click here
. See and read more about the Celebration event by visiting PPA Charities' website at
ppacharities.com
.

Mark your calendar NOW for January 15, 2011. SEE YOU IN SAN ANTONIO!