June/08/2011
In spite of the fact that I'm not an early riser, I was really pleased when Peter suggested that the Burren would be a great place to photograph at sunrise. Jim and I have visited the Burren plateau in northwest County Clare before, having spent almost a week at nearby Doolin, a center for traditional Irish music. The Burren's fascinating landscape is the finest example of a karstic terrain in Ireland; it comprises curious landforms and subterranean drainage systems that are characteristic of formations that occur where limestone passes beneath younger rocks composed of shale and sandstone. As the largest karst landscape in Europe, the Burren is famous internationally, not just because of its beautiful limestone characteristics, but also because of the remarkable flora of the region and its rich archaeological heritage. The term "Burren"("Boireann" in Irish) is derived from the Gaelic for "stony place" or "great rock."

In order to reach the Burren in time for sunrise, we had to leave by 3:00 A.M. The only time I get up this early is when I have to catch an airplane. But this was different: I wanted to learn how to photograph a sunrise or what to do photographically if cloud cover obscured the sun, which often happens in Ireland. And to no one's surprise, cloud cover is exactly what we got at sunrise. But not to worry: The Burren truly is magic, and in spite of an approaching storm, we still managed to compose a panorama that captured the mood of the lonely terrain.

The finished image was well worth the early wake-up call, and I learned so much!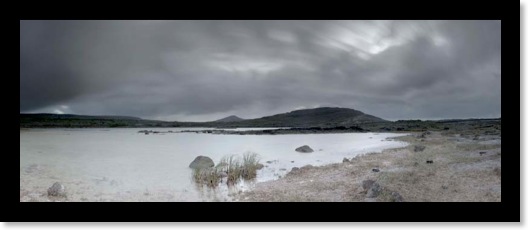 In this picture of Peter you can see how nasty the weather was. The mud made it impossible for us to follow through with their plans to hike up to another venue on the hill in the distance. Besides, the rain was beginning to fall. However, one of the most important lessons I learned from Peter during our Burren excursion was that bad weather is no reason not to go out when you want to photograph landscapes!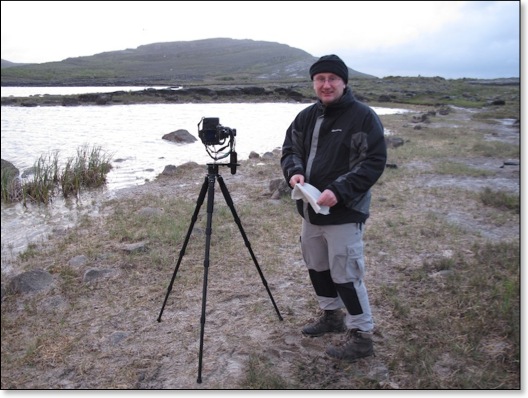 Just before the rain really let loose, I grabbed this shot of the purple early-morning sky with my point-and-shoot camera.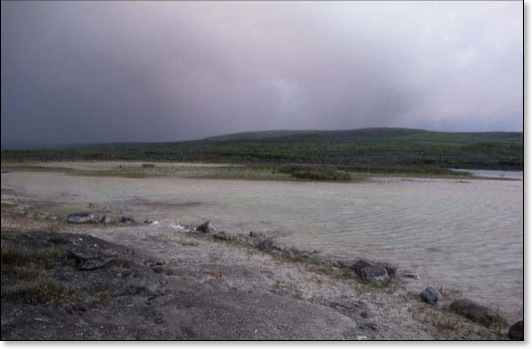 On the drive back to Castleconnell, Peter stopped off at
one of the most famous landmarks in the Burren. The
Poulnabrone Dolmen (Poll na mBrón in Irish meaning
"
hole of sorrows
"
) is a portal tomb that dates back to the Neolithic period, probably between 4200 BC to 2900 BC.
The angry sky painted a perfect backdrop for the mood of this ancient structure.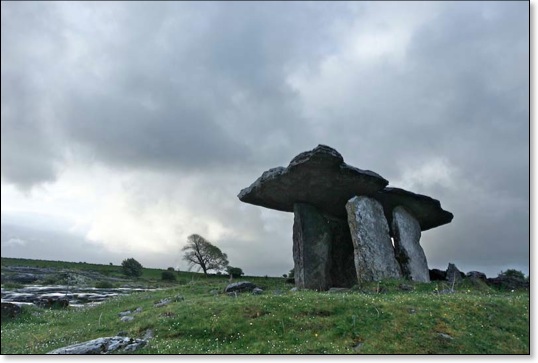 Back in the warm, dry studio, Peter walked me through the painstaking and precise process of finishing and printing the panorama from the Burren. I know I still have a great deal to learn, but I'm very much encouraged because of Peter's instruction. I can't wait to get back to Ireland in September!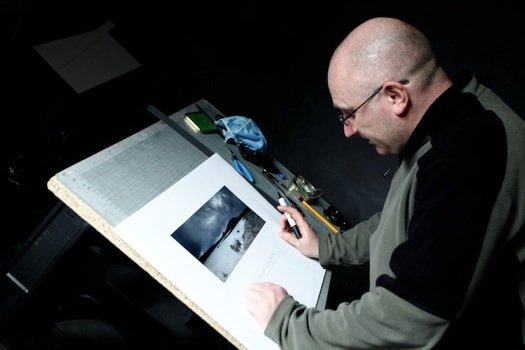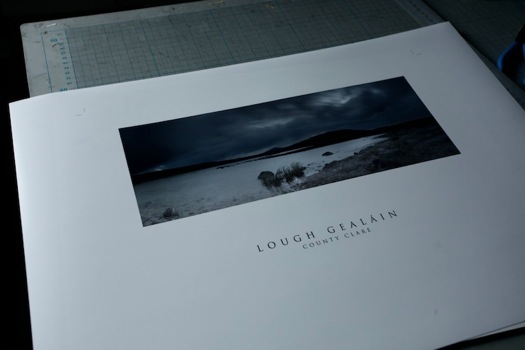 The next day I received the image shown below in an email from Peter. Only then did I realize that he had photographed me while I was photographing the Dolmen. It was an incredibly wonderful surprise: Peter had created a hand-held panorama while I was engrossed in what I was doing. To me it represents a joyful portrait that I will always treasure. A bit later, I also received a video Peter made from our time together, which featured music from our pub outing. What a treat! Thank you, Peter, for your time, your talent, and your generosity!