January/25/2012
Whether you are an old hand at charitable marketing or want to get started but don't know how, PPA Charities, in association with Marathon Press, has provided you with the perfect opportunity to gain new clients and repeat business through charitable marketing: As a PPA member, you can participate in "Celebration of Smiles Day," set for April 21, 2012. (Choose another day if April 21 does not work for you.)

"Celebration of Smiles" is modeled after an incredible promotion that I learned about through my friends in the Irish PPA, and I want to thank them for their generosity in sharing their knowledge and expertise in developing this exceptional fund-raising program that now is in it's 7th year. To learn more about the Irish PPA's "Happy Faces Day,"
click here
.

When you register for "Celebration of Smiles," with a PPA Charities donation of only $25, You'll receive . . .


The Celebration of Smiles

Marketing Guide

that takes you step-by-step through how to market, prepare for and execute your promotion, plus predesigned promotional elements and materials you can use to market to your clients and prospects.

Your studio name and website link will be placed on the Celebration of Smiles

consumer website.

You'll receive weekly "timeline" emails so you'll stay on track with marketing and operating your promotion.

What's more, you can participate in the PPA Charities Portrait Awards to win great prizes and recognition, exclusive to Celebration of Smiles participants. Plus, you might even win the opportunity to document an Operation Smile Mission!





You can learn all about Celebration of Smiles by visiting PPA Charities' website at
ppacharities.com
.

January/23/2012
I want to express my thanks to all of the PPA members who responded (with or without our nagging) to PPA Charities' year-end fund raising efforts! What your generous donations made possible, for the third year in a row, was for the PPA Charities to proudly present a check for $100,000 to Operation Smile! The presentation took place at the PPACH Celebration Gala on January 14, in New Orleans, the night before the start of Imaging U.S.A. This year's event was especially exciting, as Dr. William Magee, co-founder with his wife, Kathy, of Operation Smile, PPACH's charitable partner. You can see a recap and photos of this fun evening, on the
PPA Charities news blog
.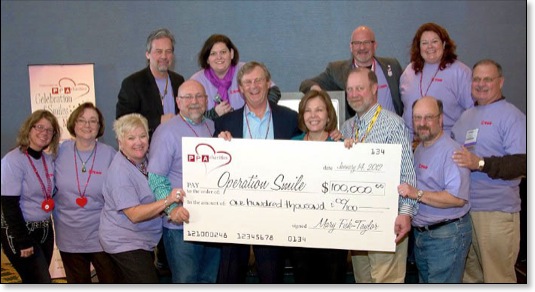 The evening's high point was an address by Dr. Magee, who expressed appreciation to PPACH and PPA photographers for their continued support of Operation Smile, and the check presentation by PPACH trustees and PPA President Don Dickson to Dr. Magee and his sister-in-law Beth Marshall, who is Kathy Magee's sister and director of Operation Smile's Southeast Region and Senior Executive Advisor for Latin America, In thanking PPA members for this donation, Beth pointed out that this $100,000 donation brings PPA's total donations to Operation Smile to $500,000! The importance of this milestone, she added, is that this amount translates to 2,000 children who have been helped through the generosity of PPA photographers.