A Hot Time in Cold and Snowy Nashville
If you were on hand at Imaging USA 2010, you know what an incredible event it was, breaking all previous convention records with well over 10,000 attendees! Nashville's Opryland Hotel was still decked out for the Christmas holidays, which added to the festive atmosphere that was further enhanced by several inches of snow that caused city-wide school closings. Fortunately, the snow didn't affect the goings-on at IUSA.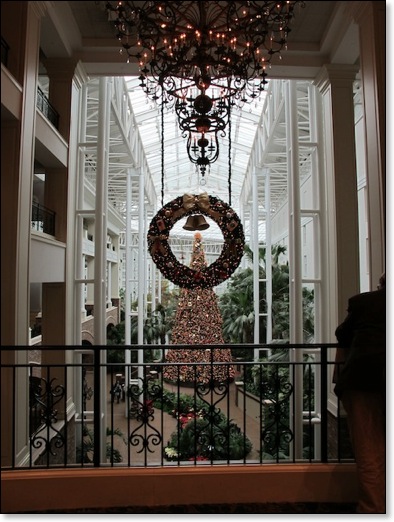 I arrived early to teacha "Basics" class and to participate in the All-Star Charitable Marketing class that took place on Saturday. The class was sponsored by PPA Charities, which was honored to have as one of the speakers my friend Margaret Moore, who together with her husband, Barry, operates
Photogenic Photographers
in the upmarket community of Dalkey, Dublin. Margaret generously donated her time to explain how the Irish Professional Photographers Association (IPPA) have turned their annual
Happy Faces Day
into a major fundraiser that drives business to participating studios and elevates the status of IPPA members in the eyes of the public. Here's a photo of Margaret and me taken during Saturday evening's PPA Charities Celebration event. Read more about this exciting evening in my next post.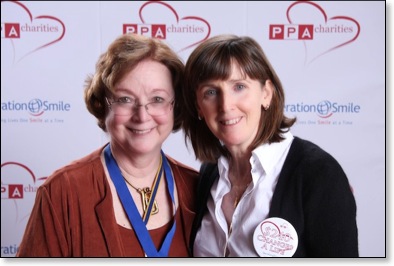 The print show was packed as usual, and I only made it halfway through the exhibition. Next year I'm going to make this my first priority, as the inspiration these prints provide can fuel your creativity for a year and beyond!



It was great to observe the brisk business being conducted on the floor of the huge trade show, which remain packed throughout the convention. I would say that the mood of the entire convention was very upbeat. Yes, there was talk about the effects of Recession, but there was a lot of determination to concentrate on moving business forward in the coming year. I've never seen so much interest in fundamental business issues: In fact, my program on PPA's most recent Financial Benchmark Survey, presented with PPA CFO Scott Kurkian, had standing room only in a seminar room that seated 1,000, and I'm told the overflow room was crowded as well. Wow!

Here's at look at the trade show: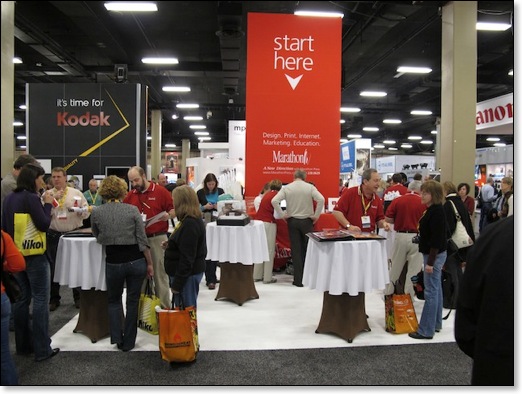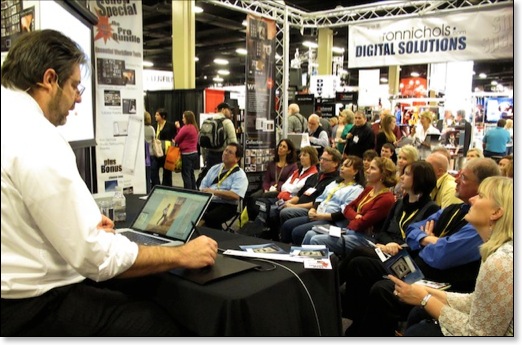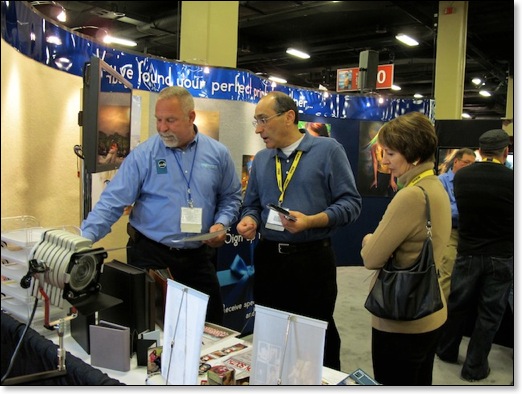 One of the convention highlights was the evening Super Program presented by three White House photographers who have chronicled the administrations of three American presidents. The panel included J. Scott Applewhite, Associated Press photographer of President Barrack Obama's administration; Paul Morse, official photographer of President George W. Bush's administration; and Robert McNeely, official photographer of President Bill Clinton's administration. Attendees were treated to intriguing behind-the-scenes stories and photographs, most of which have never been published, and the panelists state on for quite a while to answer questions from the appreciative audience.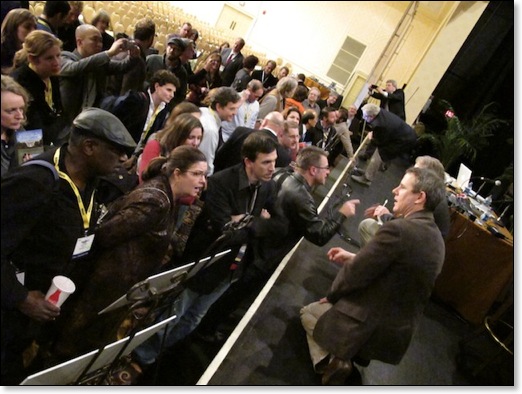 Another of my Irish friends,
Mary McCullough
, also attended IUSA; Mary serves with me on the PPA International Committee. She and I managed to escape with some of my SuccessWare and Studio Management Service friends to the nearby Aquarium Restaurant for dinner one evening. Mary is shown below, at left, with Brooke Goldman and Bridget Jackson of Studio Management Services, and Judy Grann and Diane Jessup of SuccessWare.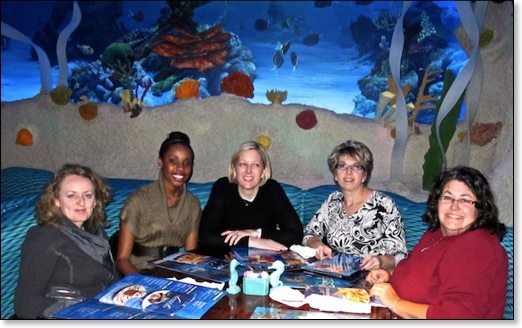 Another convention event that I really looked forward to was the Judges' Refresher Course, which this year concentrated on the changes being made to implement digital entries as an option for upcoming International Competitions.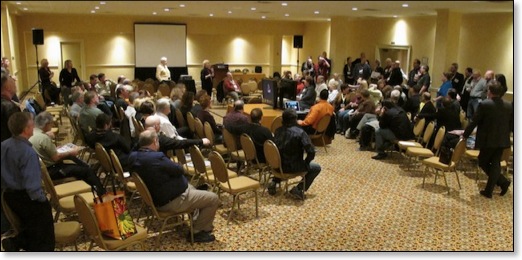 Outgoing Print Exhibition Committee (PEC) Chairman Helen Yancy, and incoming PEC Chairman, Dennis Craft, explained the process and timetable to us . . .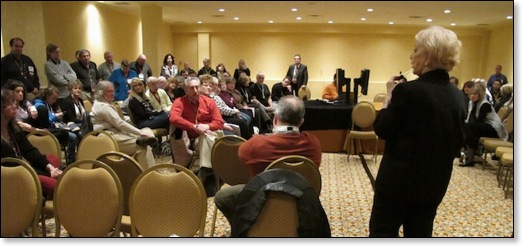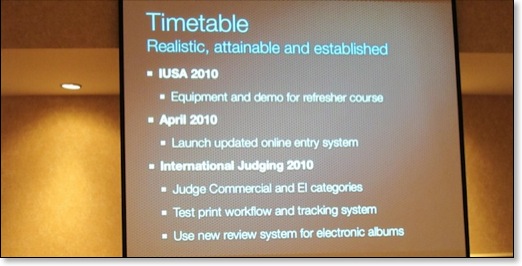 . . . and everyone had an opportunity to examine the software being used to evaluate and score prints. I was very impressed by the incredibly hard work that PEC, the Print Competition Action Team, and President Ron Nichols have done to assure a smooth transition to this exciting new phase of competition.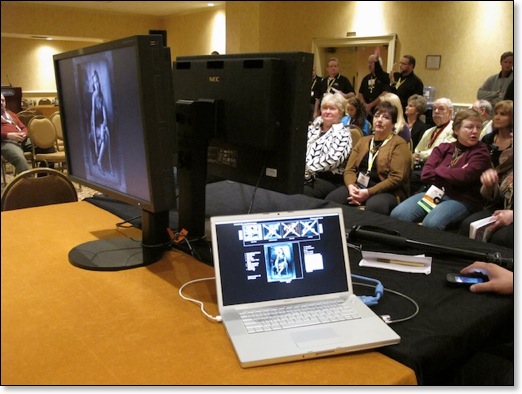 The convention crowd included representatives from at least 20 other countries, and I was especially pleased to see that International Committee member
Kan Suzuki
was accompanied by his family, so they were able see him honored in the "Photographer of the Year" category as well as receive his Master of Photography degree at the Awards & Degrees Ceremony. Congratulations Kan!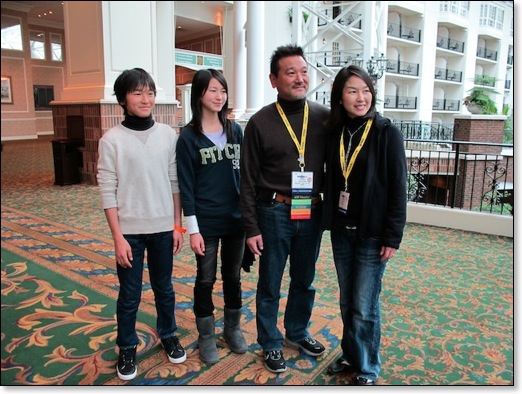 The various countries represented were recognized at the "Parade of Nations" during the Awards Ceremony.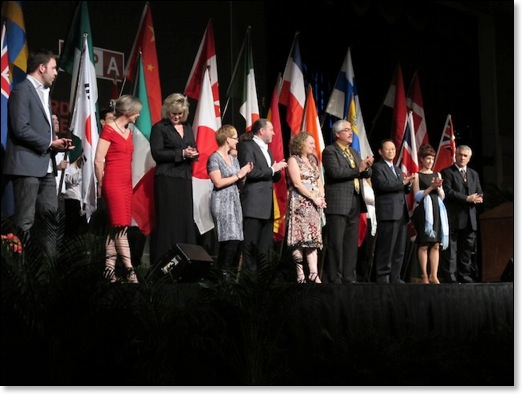 An intriguing Awards Ceremony highlight was a display of "wearable images" modeled on stage as attendees began to arrive for the ceremony.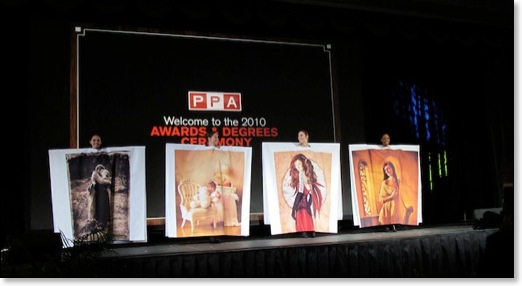 Incoming PPA president Louis Tonsmeire got a good laugh when he made use of a stepladder so that he could, for once, tower over outgoing President Ron Nichols, when he presented Ron with the association's Honorary Master of Photography degree.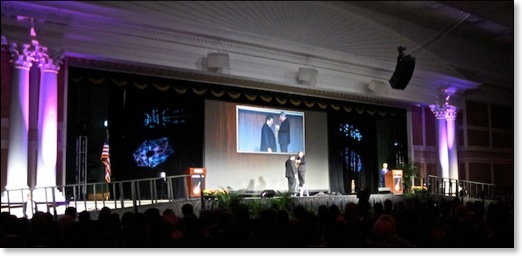 It was a great pleasure to be on hand to see Bill McIntosh receive PPA's Lifetime Achievement Award and to view a retrospective of his extraordinary image-making career. I have long admired Bill's work and consider him to be one of the world's most accomplished portrait photographers. You can view his work, and that of his daughter, Leslie, on their
studio website
.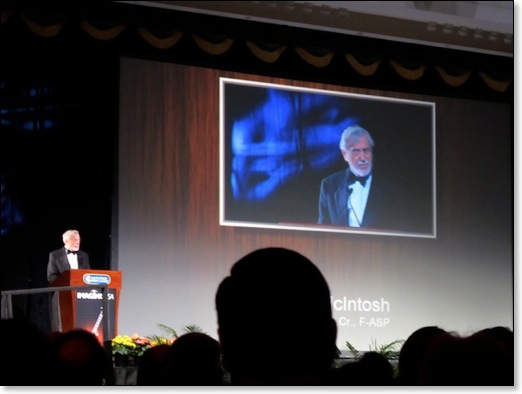 After the Awards Ceremony concluded, I caught up with three of my favorite photographic "divas" . . . from left, Lisbeth Guerrina, Deanne Burch, and Joyce Wilson. How elegant they are!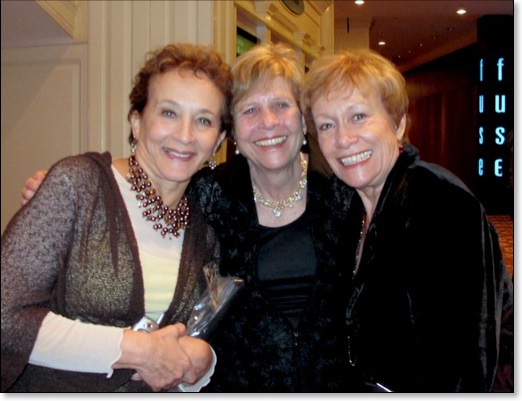 At the All-Convention party that followed the Awards Ceremony, Mary McCullough and I posed with one of the best-dressed men at the party . . . PPA board member and outstanding Canadian photographer
Don McGregor
.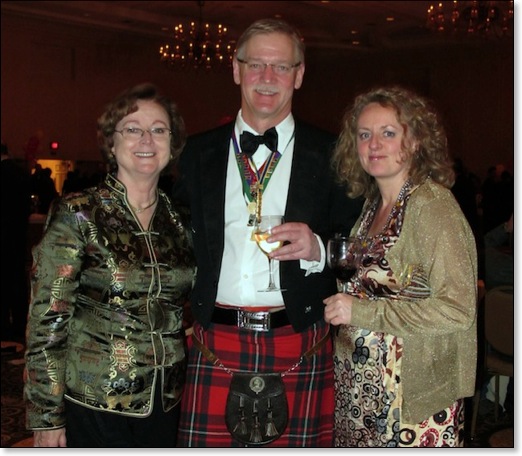 When Mary and I left the party, it was still going strong. Hope you will join us in 2011 in San Antonio on January 15-18. When PPA goes to Texas . . . the party's never over!