Lumix FZ1000 Goes to a Concert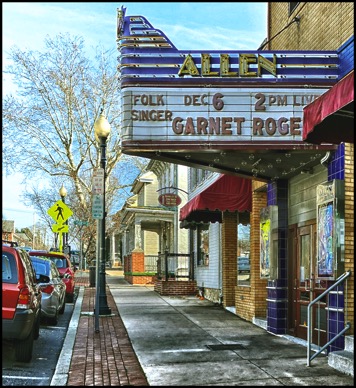 My friends and colleagues know how much I love the versatility of my Lumix FZ1000 mirrorless camera for on-location shooting when I'm traveling; I rarely go any place without it. Having a lightweight camera, with a fixed lens that ranges from 25mm to 400mm, has opened a world of opportunities for making images for fun as well as for business.
In December I took the camera with me to a local concert by
Garnet Rogers
, a Canadian folk musician-songwriter whom I have followed for many years. I was astounded to learn that he was going to be in our little town at the charming Allen Theatre, and I wanted some photos of the event. However, the last thing I wanted to do was haul gear, set up a tripod, and in any way call attention to myself instead of enjoying the music. So I took a third-row seat that had an unblocked view of the stage, set the camera on "Hand Held Night Shot," which is one of my favorite settings from the Scene menu, and settled back to enjoy the show and make a few images. I didn't want to irritate the audience with camera noise, so I silenced the shutter so no one would hear anything when it fired a burst of six frames at different apertures per exposure, which it instantly fuses to create each image.
I shot some 4K video with the FZ1000, as I have a lot to learn about this medium, and I loved the idea of capturing Garnet's wonderfully smooth and powerful baritone voice and record his virtuosity on guitar. But mainly I was interested in making a variety of stills at different focal lengths without moving from my seat. You can see the versatility of the fixed lens in the following shots: The first was taken with the lens set at 25mm to portray the scale of the darkened stage. For the second, I extended the lens to 200mm. Both are sharp as a tack and took hardly any effort on my part. The images are a great reminder of a delightful Sunday afternoon being entertained by an enormously talented musician.