January/04/2016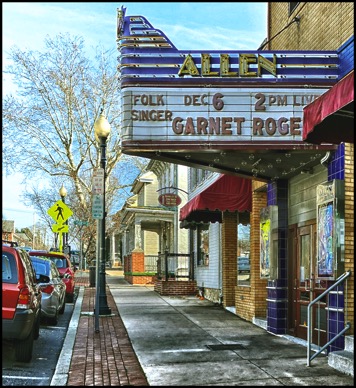 My friends and colleagues know how much I love the versatility of my Lumix FZ1000 mirrorless camera for on-location shooting when I'm traveling; I rarely go any place without it. Having a lightweight camera, with a fixed lens that ranges from 25mm to 400mm, has opened a world of opportunities for making images for fun as well as for business.
In December I took the camera with me to a local concert by
Garnet Rogers
, a Canadian folk musician-songwriter whom I have followed for many years. I was astounded to learn that he was going to be in our little town at the charming Allen Theatre, and I wanted some photos of the event. However, the last thing I wanted to do was haul gear, set up a tripod, and in any way call attention to myself instead of enjoying the music. So I took a third-row seat that had an unblocked view of the stage, set the camera on "Hand Held Night Shot," which is one of my favorite settings from the Scene menu, and settled back to enjoy the show and make a few images. I didn't want to irritate the audience with camera noise, so I silenced the shutter so no one would hear anything when it fired a burst of six frames at different apertures per exposure, which it instantly fuses to create each image.
I shot some 4K video with the FZ1000, as I have a lot to learn about this medium, and I loved the idea of capturing Garnet's wonderfully smooth and powerful baritone voice and record his virtuosity on guitar. But mainly I was interested in making a variety of stills at different focal lengths without moving from my seat. You can see the versatility of the fixed lens in the following shots: The first was taken with the lens set at 25mm to portray the scale of the darkened stage. For the second, I extended the lens to 200mm. Both are sharp as a tack and took hardly any effort on my part. The images are a great reminder of a delightful Sunday afternoon being entertained by an enormously talented musician.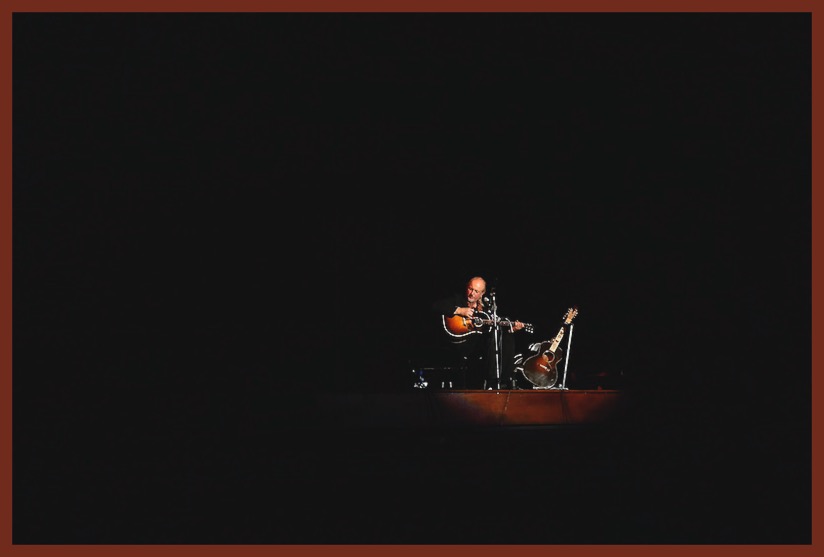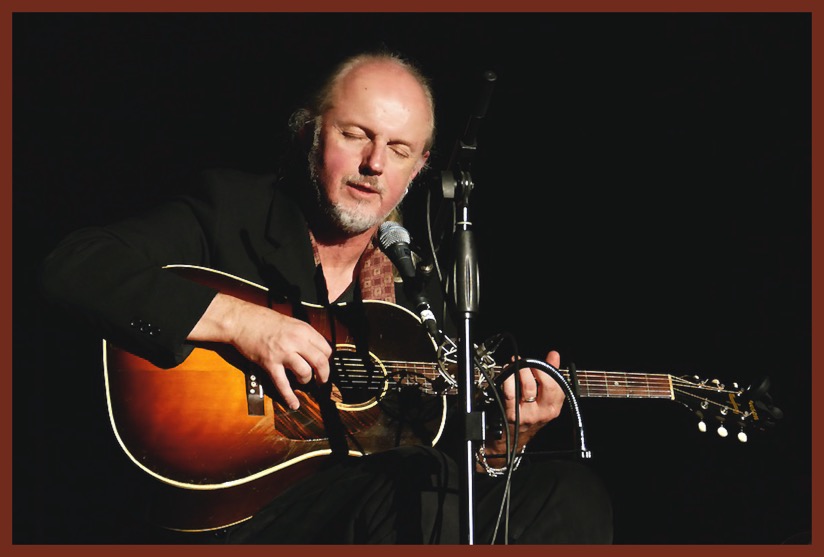 September/11/2014
The weather was great last weekend, so I found two hours to head out on a road close to my house that I've passed for years; it is off my beaten path, so I've never turned onto it. My new Lumix 45-200 zoom lens for the GH4 camera (effectively 90mm - 400mm) had arrived, and I was very eager to try it out, as its light weight, small size, and amazing price seemed almost too good to be true. I particularly wanted to see how the lens performed off tripod. Wow, was I amazed! It was a sunny day, so I had the luxury of shooting some of the images at 1/1000 sec. at between 200 and 400 ISO. The lowest shutter speed I used was 1/200 sec. At that speed I had to pay close attention to holding still, but even fully extended, the images where sharp as could be. There's no way I could hand-hold a 400mm DSLR lens, and I'm not about to haul one around! My hands are small, so ergonomically, the GH4 is a dream come true, and it fits my husband's much larger hands very comfortably. The photo above is the fully extended lens in my hand. When it is not racked out, it measures only 5 inches. I did a quick Fundy Blog Collage from last weekend's short session, using a border that differs from my last post.
I'll be heading for Ireland shortly with three lenses and the camera body in a small bag that has plenty of room for personal items as well, so packing will be a lot easier. It will be interesting to see how I get along with the new lighter gear during long days of shooting and hauling a tripod. Can't wait!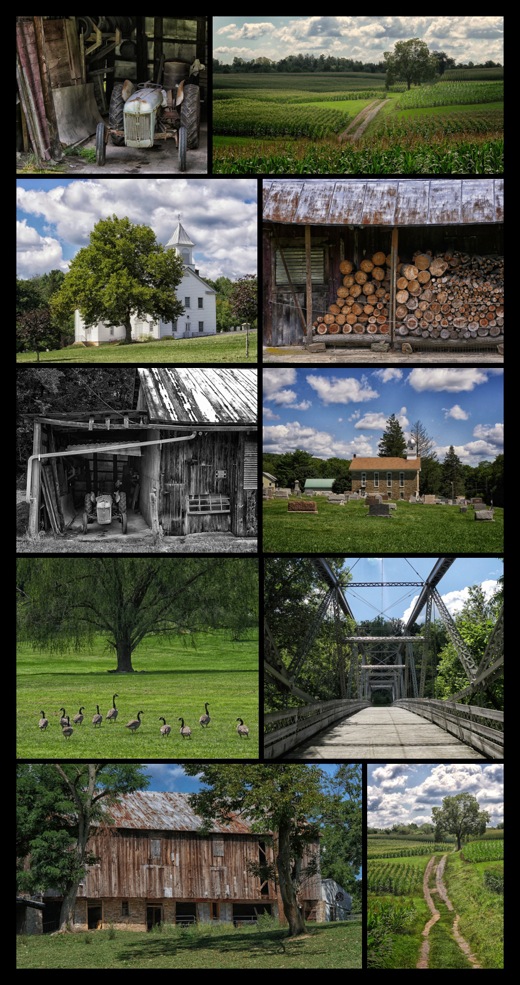 August/12/2014
Today I had one of those "ah-hah!" moments that served as a reminder that every now and then all of us need to explore the world just outside our doorsteps.
I recently purchased a
Lumix GH4
camera and several lenses, and I'm eager to give them a good workout while Jim and I are in Ireland on our annual fall vacation. I've read the manual and played with the camera at home, but I wanted to do some quick test shots to make sure I am totally comfortable with the new gear. So on Sunday, Jim and I spent two hours driving within a 10-mile radius of our home and studio to make some test images using my
14-140mm
zoom and the
7-14mm lens
.
Although I have lived in Annville ever since I graduated from college and got married, we took some side roads I had never explored. Soon I was less focused on the equipment and far more interested in the scenic vignettes of a soft summer afternoon in the country. Interestingly, the first image I processed was a panorama of a farm that I pass every time I make a trip on the Interstate. I had never stopped to take a good look at the gently rolling fields that surround the century-old farmstead. It looks so much like the farms portrayed in
Currier and Ives prints
that I want to come back again and explore it from different angles and focal lengths.

I hadn't planned on finishing the other images, as I merely needed to verify that the camera was indeed recording what I had intended. It took only a few minutes to know that it had exceeded my expectations in the image-quality department, and I was especially impressed by its versatility and ease of operation. Last evening I took a second look at the images and decided to finish a few more. Before I knew it, I had completed around 30 that were really fun to do. That's when the "ah-hah!" moment hit me: Just outside my doorstep are delightful images to be made, and the only reason I made them was task-related. What else am I missing? I won't know until I start allowing myself to get out of the office.
So I have a plan: I'm setting some "tasks" for me as a photographer, not a business owner: The first is to test the
Lumix 45-200mm / F4.0-5.6 / zoom
as soon as it arrives. Next, I plan to spend a day close to home once the fall leaves appear. When I get back from Ireland, I'll also do some camera room tests, as I have a concept for a new pet portraiture product.

Finishing the images above also gave me an opportunity to try out the
Blog Collage
module of Fundy Designer Software. I bought the software to use for album/book construction, but I'm so glad I added the Blog module, as it is a really great time saver. This makes me even more eager to start on a book. Now that I'm resolved to spend more time in my own backyard, perhaps I'll create a book of images that I record there. A good lesson learned.
P.S. I'll have information on both the Lumix system and Fundy software at my
November 3-4 Workshop
in Woburn, MA.