Using ProSelect for Album & Book Layouts
April/28/2007
Last July my son and his long-time fiancee finally got married. Although they had been together since college, the decision tie the knot on PPA's first-ever cruise event was very much a spur-of-the-moment decision. My son Wes heard his dad and me talking about our going on the cruise, and he figured this would be as good a time and place as any to make it official. Jess agreed, so on July 10, 2006, Wes and Jess were married aboard ship, with family members and a bunch of photographer friends in attendance.
We were extremely fortunate that award-winning wedding photographers Jamie Hayes and Mary Fisk-Taylor offered to cover the wedding. Their photos were awesome, but at first it was a daunting task for me to put an album together, as I hadn't built a wedding album in many, many years. Then I remembered that one of my SMS Clients,
Parker Smith
of Atlanta, had told me he uses ProSelect to create layouts that he outputs for albums. So Parker gave me some tips and I read
ProSelect's
handy user guide and discovered how easy it is to quickly design your own layouts, add the images, then output them through the software's production module. What really amazed me was that I negotiated the learning curve and had 44 pages completed within less than a day.
Since the bride and groom really didn't want a traditional album, I decided to try to upload the files to Marathon Press to create a hard-bound book from their new Premiere Editions series. Again, the process was incredibly easy, and less than two weeks later I received a 10x10 illustrated-cover hard-bound book for the bride and groom, 8x8 books for the parents, and several nice purse-size 5x5s.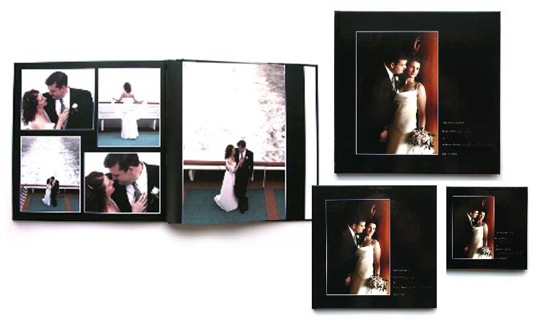 The entire process was so much fun and the books so attractive and inexpensive that I intend to start rounding up all of my family portraits and vacation images that are stuck in drawers, bulky albums, and who-knows-where else, and create a library of books that will take up so much less space and be fun for my family to enjoy.