Terriffic Time in Tennessee!
If you've never visited Knoxville, Tennessee, you really should, as it lives up to it's
Visitors Bureau
description as Tennessee's "Hidden Gem."
If you're a photographer in Tennessee (newcomer or veteran) and are not a member of
Professional Photographers of East Tennessee
(PPETN), you really should be. Why? I just had the pleasure of presenting my Get Down To Business! workshop for that organization, and I discovered that it's one of the most vibrant local organizations I've ever visited. Not only is it well run administratively, it is member-centered and firm in its mission to provide photographers with the education they need to thrive in an industry fraught with the confusion of change. Best of all for me, these folks have a wonderful time together, and I thoroughly enjoyed their great personalities, their willingness to share ideas freely with one another, and their warm and friendly company. I believe their camaraderie comes through in the photos below.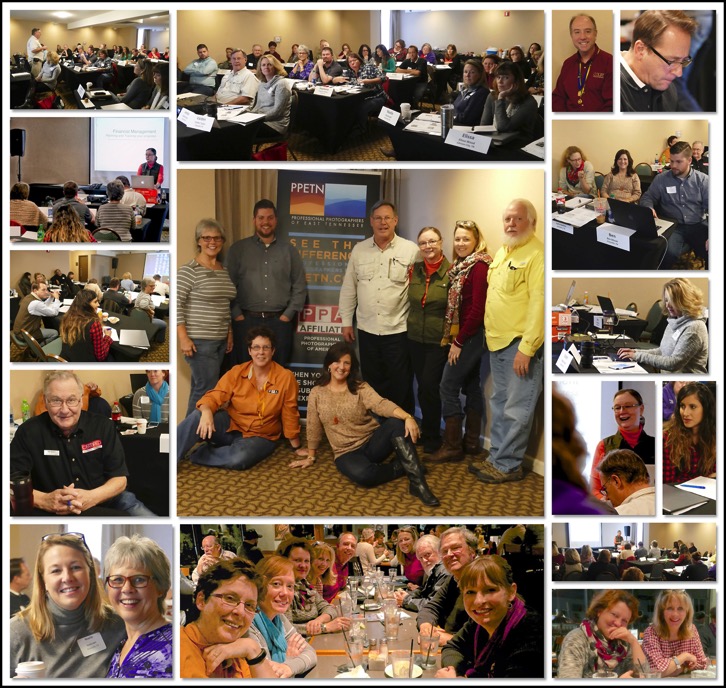 Thanks to the PPETN Board of Directors for making this workshop possible: Chairman Nicole Webber, President Alisa Whitley, Vice President Eddie Foley, Secretary Gena Tussey, Treasurer Noelle Bell, IT/Web Editor Ben K. Moser; Senior Board Members J. Wade Tipton, Ambler Brown, Carla Hoskins and Michael Broyles; Junior Board Members Kathy Smith and Tyson Smith. Not all of the Board members were present for the board photo shown in the above composite; those who were are clockwise from 1st row: Carla, Gena, Alisa, Ben, Ambler, Noelle and Michael.