A Very Special 10th Anniversary
It's hard to believe that it's been 10 years since Judy Grann and I hosted our first hand's-on workshop designed to help photographers improve the financial performance of their businesses. Back in 1997, only a year before the first workshop, I was fairly certain that I had taught my last Business of Photography class because it was so hard to attract business students to affiliate schools, where students were far more interested in studying posing and lighting. What's more, teaching the information using paper forms, pencils, erasers, and adding machines was painful for everyone involved.

What emboldened Judy and me to attempt our first two Guerrilla Management Workshops in the fall of 1998 was the possibility of using as a teaching tool the Planning and Pricing modules of
SuccessWare
, the new fully integrated studio management software developed by Judy's company. Our expectation was that we could allow students to use the software to quickly analyze the financial position of their businesses, then we could help them with strategies that would zero in on where and how to earn more profit. Well it worked! And the clarity that the software brought to the financial side of studio management was beyond my wildest expectation. What it had taken me two weeks to teach could now be absorbed in four days.

Since those first two 1998 classes, nearly 700 studio owners have attended our
Guerrilla Management Workshops
, and Judy and I continue to marvel at their accomplishments. Many have made huge improvements in their business, and some are now among the most successful studios in the country. We are so pleased that many graduates keep us up to date on their activities, and what is especially satisfying to me is how many have taken what they learned about financial management and are now teaching others. It's also nice to know that our workshops helped to inspire Scott Kurkian, PPA's CFO, to ask the PPA Board to launch the Association's
Studio Management Services
, which now is in its 6th year of educating and advising photography businesses.

We couldn't have hand-picked a better group for our 10th anniversary workshop! They are shown below on the deck of my Deep Creek Lake, MD home, where we hold our spring and fall workshops.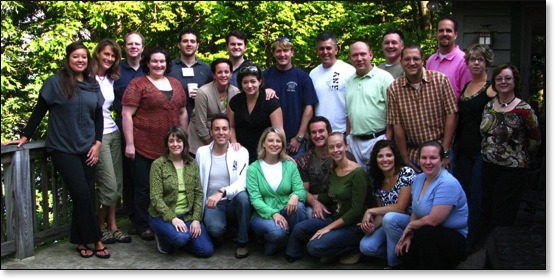 I am absolutely certain that this group will make the most of what they learned, and I fully expect to hear some extra-special success stories from them. I wouldn't be surprised if an instructor or two emerged from this group as well.

So thanks to everyone who has supported our workshops over the past decade. As I celebrate this special anniversary, I am mindful of what a privilege it is to teach because of how much the teachers learn from their students, both in the classroom and in the years to come. Judy and I look forward to many more great workshops and to making many more long-lasting friendships.

Cheers!