BellaGrafica To Debut at Women's Retreat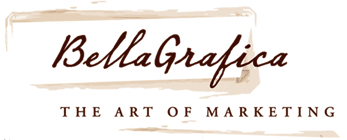 You've probably heard some buzz about BellaGrafica, a new marketing company created specifically to serve the needs of boutique studios, and you'll get an opportunity to learn what this buzz is all about at the
Chicks Who Click
women's retreat in the Bahamas, June 25-27 (There's no prohibition against male attendees). At that retreat I'll be presenting my new program entitled "The Boutique Studio Revolution," which will focus on the key factors that make up this emerging business model as well as feature six of the top boutique studios in the country. They are:

It has been my privilege to work with these studios for nearly a year now in helping to develop BellaGrafica, which is being shaped by a small group associated with Marathon Press. I'm often asked why Marathon felt that it was necessary to form a new company in order to create boutique studio products. The answer is simple: Boutique studios truly are a different business model from traditional ones. They have a laser-like focus on marketing to women and are far more niche-oriented. What's more, the marketing philosophy that drives boutique studios requires a complete redeployment of marketing resources. Here's an example:

Let's say you have $5,000 to spend on marketing a particular product line. The traditional studio is likely to send 5,000 direct mail cards to a purchased list at a cost of $1 a piece. The boutique studio, however, is more likely to spend $5 each getting 1,000 "wow-factor" marketing pieces into the hands of clients that the studio really wants to do business with—families who appreciate fine things, including artful photography, which they are willing to purchase at a premium price. The key, then, is how to get these great marketing pieces to the right prospects. Boutique studios often do this through networking with retailers, professionals or organizations that deal with these highly qualified clients, asking them to hand out the materials to their top clients or mailing the materials to leads they supply.

I promise that you'll learn a lot about this exciting new business model and the wonderful products that BellaGrafica has just started producing if you attend the Bahamas event. If that's not possible, then don't miss another opportunity to visit with BellaGrafica at PPA's
Make More Money
conference, July 29-August 1, in Memphis, TN.