Eyes of the Storm
I met a truly remarkable man at a recent SMS Class. His name is Chris Lommel, and his studio is located in Big Lake, MN. Chris very kindly sent me a copy of a photograph that is very meaningful to him. Rather than tell you Chris's extraordinary story, with his permission I'm reproducing the Artist Statement that came along with the image:


It was Monday, June 13, 2005. Just after 9 p.m. a storm was passing over Monticello, Minnesota. Distant sirens could be heard south of our home. Tornado warnings were issued for portions of Wright County.

Intrigued by the power of meteorological forces and cloud formations, I had my camera in hand and looked toward the sky. I was drawn to the sight of what appeared to be an eye. Soon a second eye and the likeness of a face in the clouds were clearly visible. Instinctively I photographed the formation before it slowly dissipated into the stormy sky.

The sighting that night was significant to me. It had been nearly three years since a stem cell transplant saved my life from the intense fatigue and pain of bone marrow cancer. It took three years to gain significant energy back to my system since the year-long treatment in 2002. I sought comfort and answers from God through the ordeal. I sensed both that night under the watchful "Eyes of the Storm."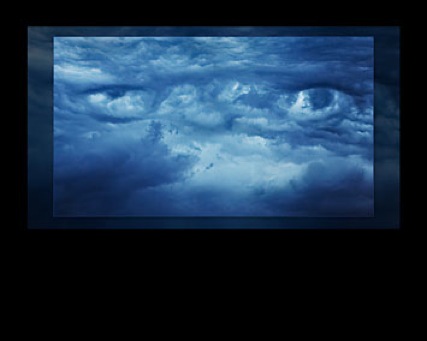 This exceptional image was one of four images selected for Merit print status at PPA's 2006 International Print Competition, which allowed him to be recognized as a "Photographer of the Year" at PPA's ImagingUSA convention in San Antonio in January, 2007. An achievement that any photographer would relish, Chris's honor was all the more remarkable for a man who had miraculously rebounded after more than a year of chemotherapy and radiation treatments that culminated with a stem cell transplant to cure his multiple myeloma. You can read more about Chris and see photos of his beautifully landscaped home-studio gardens in the upcoming April issue of
Professional Photographer
magazine. In the meantime, you can visit his website by clicking
here
.

As I write this entry, to my left is Chris's "Eyes of the Storm" image, to which he has added the following text:


When the storms of life are upon you, remember the Lord said: "I will never leave you nor forsake you." -Joshua 1:5.


I truly treasure this comforting image and the unforgettable photographer who created it.